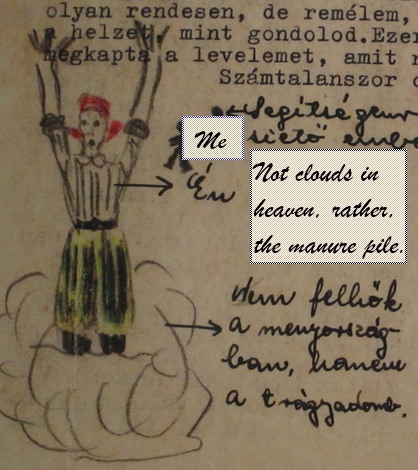 I saw a special exhibition recently (special in various senses of the word) that I wanted to recommend: Fire in My Heart: The Story of Hannah Senesh showing through September 8th at the Illinois Holocaust and Education Center in Skokie just outside of Chicago. It's a touching tribute to an amazing young woman who was killed by firing squad in 1944 at age 23 having been captured and tortured while on a mission to help Jews escape from Hungary.
Through diary entries and her letters to her mother and her brother, we learn of a girl and young woman who was wise beyond her years with quite a sense of humor. The exhibition starts out with scenes from 1930s Budapest depicting what seems like just another middle-class family. The fact that the family happens to be Jewish doesn't come across forcefully at all at first, something quite true of many Hungarian Jewish families, both then and now. But as the years pass and Jews are increasingly treated as "the other", young Anna (her Hungarian name was Szenes Anna) starts realizing that she may not have the same opportunities as others, whether in school or in love. She decides to emigrate, eventually joining the British Army and becoming part of a parachuting mission.
The exhibition does a nice job of sharing her writing (both diary entries and poetry) as well as showcasing all sorts of artifacts from her life. It is remarkable that her family was able to retain all of these materials.
I couldn't tell if it would be a traveling exhibition. With the effort that went into compiling the material, I would hope so, but it doesn't look like it so if you're in the area or were looking for a reason to visit, do stop by in the next few weeks. Alternatively, several books have been published about her life and with her writing. I haven't read them so don't have specific recommendations, but I do recommend reading up on her story.