The Awl has an interesting piece about papercraft in prison. Obviously that's the sort of thing boingboing would link to. Next week: prisoner-modded 'steampunk' shanks, stylized prison-breaks as YouTube responses to OK Go videos, and associated 'yardsourced' projects (Clinkstarter), with all the (brass) trimmings: 'Help me fulfill my dream of building a giant dirigible in solitary confinement!' 'Help me turn my cell toilet into a working trebuchet!' On a more serious note, the article neglects one of the most notorious episodes in prison papercraft history, from Action Comics #267: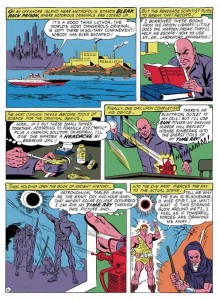 Luthor communicates with the ancient Greek historical figure in Latin, by the simple expedient of saying 'thee' instead of 'you' in English.
Neat! This shows, as few other things could, that strategic dynamism is consistent with the values of a classical education.