As mentioned in a recent post, I got to go to Texas for a conference on Conservatism sponsored by Sanford Levinson. Unfortunately, that was the day some joker decided to call in a fake bomb threat. So we ended up evacuated and reconvened in Sandy's living room. Which was congenial, actually. But no PowerPoint, so I didn't get to use the cartoons I whipped up that were supposed to allow me to make some basic points in admirably compressed fashion. So let me lay that bit out.
Rawls, I argue – in a really long piece that I hope to post some time soon – has a blind spot for conservatism. It just isn't clear where conservatisms and conservatives fits into his scheme for political liberalism. Are these 'reasonable' candidates for inclusion in an overlapping consensus or not? On the one hand, Rawls suggests he wants to set the bar pretty low. On the other hand, it's not hard to see how conservatisms and conservatives could fail to pass crucial Rawlsian tests of reasonableness. I'm not going to argue about that right now (although you are welcome to pick a fight, in comments.) In my paper I emphasize that Rawls has surprisingly little to say, one way or the other. This produces an ambiguity. One of Rawls' solidest anti-utopian credentials is his commitment to pluralism. This makes it seem as though he imagines, optimally, some hypothetical future in which something like the Democratic Party and something like the Republican Party – both philosophically spruced up in various ways – jostle and complete in reasonable, civil fashion. But, strictly, saying we need some buzzing, messy pluralistic public square is strictly consistent with saying that, ideally, we should abolish the buzzing, messy pluralistic public square we've got and elect a new one. That is, ideally, we should have a healthy mix. It obviously doesn't follow that, ideally, we should have approximately what we've got now, since what we've got now is a mix.
I end up arguing that Rawls' problem is not so much that he is stuck in some Harvard boutique liberal bubble – as his conservative critics would no doubt say – but that he has trouble doing ideal theory of partisanship, as it were.
This brings us to cut-rate New Yorker-style cartoon number 1:
Get it? As I said, one of Rawls' clearest anti-Utopian credentials is his commitment to pluralism.. We aren't going to make everyone sing from the same Hymn Book of the Good. But it's a bit unclear whether this really is anti-utopianism because one of the main intuitions behind acceptance of pluralism is a sense that ideally there should be pluralism. It wouldn't be me any more if I lose all my distinguishing characteristics and become one more angelic voice, singing the same tune. Even so: why insist on pluralism only of a Rawlsian sort, and to a Rawlsian degree? Here Rawls tends to offer an unclear mix of idealist and realist considerations – hence his use of the term 'realistic utopianism'. Suppose we really pressed him on this. If you could really get what you think would be best – never mind about realist constraints (we're in heaven!) – what would it be?
Obviously we aren't going to say that everyone should sing in harmony in the choir. But it's equally absurd to say that nothing should change. "Fight on, fare ever – there as here!"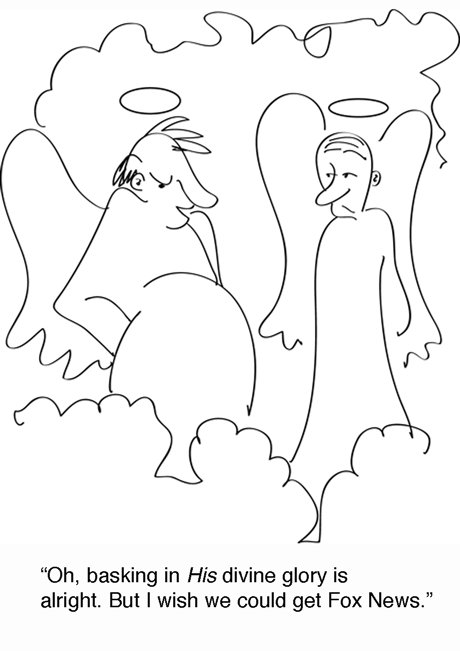 Is it reasonable to say that, in an ideal – even just an optimal – world, no one would want to watch Fox News six hours a day? I would say: obviously so. But obviously imagining away the Fox News viewership, for purposes of doing 'ideal theory' is a very consequential step. (And conservatives needn't retire to fainting couches and survivalist bunkers, in response to such a statement. We're just saying: so long as people watch that much Fox, it's unlikely that we'll get society as a fair system of cooperation, in Rawls' sense. Because the people won't stand for it!) Rawls idealizes citizens as just and law-abiding, to a fairly high degree, for ideal theory purposes. Wny not just toss in: and they won't be the sorts who want to watch Fox News all day. But that, even though it is less, seems like it is too much. Dictating taste in television is not what Rawls is all about.
This is funny because, one the one hand, you can't expect people to give up what really matters to them, when they get to Heaven. Otherwise Heaven wouldn't be the happy place we think it is. On the other hand, what could be the point of trying to write this stuff into the firmament, ideally?
Does this improve matters? Not obviously. After all, what's the point of there being both liberals and conservatives, ideally?
I actually didn't draw this next one myself.
It's Peter Brueghel. There's an ancient utopian tradition that doesn't get much philosophical traction despite the fact that it's name – Cockaigne [see Brueghel link] – is cognate with Cuckooland, on whose clouds many philosophers are thought to dwell. Cockaigne is the place where, as Rawls would put it, the objective conditions for justice are not met. There is no scarcity. It's a land of plenty. Pies on the roof. Brueghel is obviously objecting on the grounds that it's a land of sloth and therefore rather disgusting. Hardly ideal. But, in defense of Cockaigne, a lot of fantasies about it are more active, leaving room for the triumph of virtue. Take the American version, the Hobo's Utopia – "The Big Rock Candy Mountain". Now why would there be cops and bulldogs at all if there's plenty for all? Doesn't make any sense, does it? But obviously it's more fun to imagine cigarette trees plus stealing from them and getting away from the cops (who have wooden legs) and dogs (that have rubber teeth). The ideal political theory version of this, it seems to me, is a heaven in which there are liberals and conservatives, only your side has such an advantage that you are bound to win. Does Rawls offer us such a vision, in effect, in Political Liberalism? There will be conservatives, but, inevitably, they will be hobbled by the whole set-up?
[NOTE: in typing my notes for this part of my talk on my iPad I had a strange experience. I was writing something about David Estlund's paper on 'utopophobia' but my iPad figured that was 'hobo utopia' – which was strange, because I actually was writing about hobo utopias, i.e. "Big Rock Candy Mountain", but not at that particular moment. And my iPhone thought it should be 'Holbo utopia', which is something else. So my notes were a bit of a mess for a while there.]
What if we try to raise the tone of partisanship to a truly ideal degree by imagining, in effect, that when you die you get to pursue politics – because we all care about politics! – by pursuing a posthumous Ph.D in political philosophy at Harvard. (And Rawls is still alive and teaching. What could be better?) You get to be partisan, in effect, but only insofar as you adhere to an 'ideal' philosophy of one sort or another.
The problem is that it is unclear what pursuing ideal politics in this sense – partisanship about ideal theory, in effect – has to do with ideal theory of partisanship, if you see the distinction.
So that's what the talk was about. Just wanted to get these cartoons posted. Make of them what you will.