I keep referring to this cartoon in conversations and people keep telling me they have no idea what I'm talking about so I'm just going to put it here with the hope that it spreads to more and more folks. (I know some of you have already seen it, Vivian linked to it in her comment here. Nonetheless, it deserves its own post.)
It's amazing how well it tells so much. It reminds me of specific experiences throughout my life from high school through graduate school (although the latter not in my department, to be fair). Plus one encounters this type of attitude online all the time.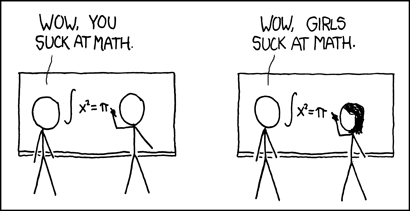 Thanks to xkcd. I'd buy this one on a T-shirt, but it's not in the store. The college-style XKCD is tempting.